Having cooling unit problem? Were here to help, here are a few things to check if your RV refrigerator isn't cooling properly.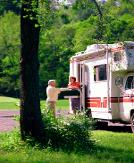 We at Irving Refrigerator repair specialize in rebuilding of ammonia cooling units. No matter what type of ammonia refrigerator you have there are three things that must occur
The refrigerator must have adequate ventilation ( no clearance on the sides or top and bottom)
The refrigerator must be level
The refrigerator must have the correct amount of heat. Always check on electric
If you don't know the proper factory wattage or unsure how to check wattage give us a call at (972) 200-9519
If the last three things are proper and correct the cooling should cool but if not you should check the following.
Check to see if there is a smell of ammonia in or around your refrigerator. The smell would indicate that the cooling core has leaked out. Look to see if you see any yellowish or green powder substance on the insulation pack and the burner assembly. This would tell you that the cooling unit has defaulted and would need to be replaced
Do you hear a loud noise that sounds like gurgling sounds . The gurgling sound means your cooling unit has lost its pressure. The gurgling sound also means it would need to be replaced.
Is the inside of your refrigerator not cold but the back of the cooling unit inside the access panel is hot (be careful not to touch) this indicates that the unit is probably stopped up and would need to be replaced.
Your refrigerator must be securely closed for proper cooling so it's always a good check to look at your door gaskets and make sure they are intake and firmly in place.
The above are a few things that you can check that might help determine your cooling unit problem. if it does not please feel free to call and talk with one of our technicians about other issues that could case your ammonia refrigerator to stop such as electrical problems, gas valve problems, eyebrow board problems, main board problems, water valve problems, wiring issues, ignitor problems, thermocoupler not staying lit, recall kits  and any other refrigerator problems they will be glad to help you find and solve your cooling unit issue.
Continue reading about "Refrigerator Repair FAQ's"